Want your site showcased? email us a press release.
Showcase: Meekro.com uses Smarty 3
Feb 24, 2011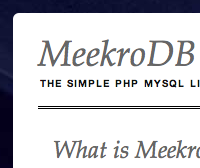 The Sergey from meekro.com says:

When I discovered Smarty 2 several years ago, it completely changed the way I developed PHP web apps. Since that day, I haven't had reason to put any HTML into my codebase. Keeping the HTML separate made my apps cleaner and easier to read, and Smarty made this easy by providing countless functions and modifiers that I could call from within my templates.

Throughout those projects, I had a self-built MySQL class that I kept improving. This class simplified my projects almost as much as Smarty did, by letting me do common MySQL actions in one line instead of several, and by giving me perfect protection from SQL injection.

When I decided to make a website so I could publish this MySQL class (now called MeekroDB), Smarty 3 was the obvious choice. By using it from the start, I'm keeping my site's codebase as clean as possible and ensuring that it won't become confusing and cluttered over time. I'm already in love with the new template inheritance system because of how much it simplifies my template files, and I know that's just the beginning. As my site grows, I'll be able to enable Smarty's caching support and ensure that it keeps loading fast.

Thank you Smarty, for many years of great PHP coding!
www.meekro.com

Cool!
Showcase: PrestaShop uses Smarty 3
Feb 18, 2011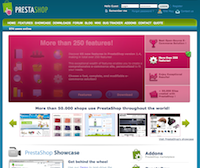 The PrestaShop development team says:

PrestaShop has been using Smarty ever since its launch over 3 years ago. It has been our first choice because of its popularity and simplicity, but we gradually ramped up our skills, tweaking it to fit our own needs and playing more and more with compilation, cache or even internal plugins and compilers.

Smarty soon became an irreplaceable part of our framework. When Smarty 3 was released a few months ago, we were glad to replace our aging Smarty 2 as this gave us the opportunity to implement a new system and acquire new skills.

Beyond the technical choice, Smarty is so well received by our community of developers and web designers that it seems now inconceivable to use anything else as a template engine. We can definitely say that Smarty is an important competitive advantage over PrestaShop's rivals.

Thank you Smarty!
PrestaShop Development Team
www.prestashop.com

Very nice!
Smarty 3.0.7 Released
Feb 11, 2011
Smarty 3 and Zend Framework
Feb 8, 2011
Showcase: XOOPS uses Smarty 3
Jan 31, 2011

The XOOPS developers say:


The XOOPS Project just presented an Alpha release of its next generation Web Application Development platform the Xoops Engine.

XOOPS is one of the most successful Open Source CMS solutions, constantly winning top places in various competitions, and receiving various awards. But it was slowly showing signs of aging that would require major rewrites of the Core. After much deliberation the team decided to rewrite it from the ground-up using a standard off-the-shelf PHP Framework. Following the same thinking as IBM or Apple did when they decided to use standard Intel chips, the XOOPS team believes that using standard components and libraries while focusing on unique value-add, will increase the speed to market for XOOPS. The Xoops Engine is be probably the first and only case so far of rewriting a major Open Source project using an industry standard PHP Framework.

After some research and evaluation, XOOPS team has selected Zend Framework, the best and most popular PHP Framework on the market. By using the Zend Framework XOOPS can take advantage of the latest Web trends and vast resources provided by the Zend Framework developers.

While we've spent some time looking for the best PHP Framework for us, it was a no-brainer in regards to templates! :)

We've been using Smarty in XOOPS successfully since 2002, so it was only logical that we'll continue to use Smarty in the Xoops Engine as well, and the timing of the Smarty 3.0 release couldn't be better - we were able to incorporate it in our Alpha release right away as our default view templating engine.

Thank you Smarty Team for all your hard work and we're looking forward to keep using Smarty as it grows and is getting better.

XOOPS Project
www.xoops.org

Congrats on the new release!
Showcase: TestLink uses Smarty 3
Jan 6, 2011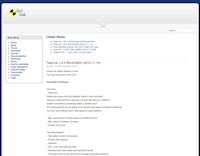 The TestLink developers say:


TestLink, is the leading Open Source Test Management application. A mature application present for more than 6 years on the open source area, has reached version 1.9 on Dic 2010, adding more and more features like:

- better user experiencie usinng EXT-JS
- improvements on Requirements Management
- allow integration with third party application through XML-RPC API.
- integration with well known BTS (Mantis,Bugzilla,Jira,etc)
- and more

TestLink is developed using PHP,Smarty,Apache. We have started development of version 2.0 migrating from Smarty 2.x to Smarty 3, and we have found that quality of our templates will increase thanks to new features. We expect that TestLink to be fast and responsive, as does our community, and switching

Thanks a lot for your work

TestLink Development Team
http://www.teamst.org/

Very nice!
Showcase: Elance uses Smarty 3
Jan 5, 2011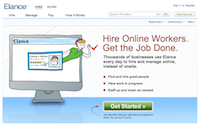 Jeff from Elance says:


Elance, the world's leading platform for online employment, helps businesses hire and manage in the cloud. For businesses looking to staff-up a team on an hourly or project basis, Elance offers instant access to qualified professionals who work online. Elance provides the tools to hire, view work as it progresses and pay for results. Elance is faster and more cost-effective than job boards, staffing firms and traditional outsourcing. For skilled professionals who want to work online, Elance offers access to qualified clients, a virtual workplace and guaranteed pay for great work. Elancers have already delivered on projects worth more than $325 million.

PHP is the most frequently requested skill on Elance, among the over 35,000 projects posted every month. Not only do clients request it but we use PHP extensively on the Elance site. About six months ago we started converting some pages from using ETS to Smarty 3 and we have seen up to 30% improvements in the time it takes to create those pages. We will continue to convert more pages as the benefits are real and easy to measure. We expect our site to be fast and responsive, as does our community, and switching to Smarty 3 is helping us reach the performance levels we demand.

Thank you Smarty!

Jeff Ligh - Technical Lead
http://www.elance.com/

Congrats Jeff!
Happy Holidays!
Dec 25, 2010
Wishing everyone out there a Merry Christmas and Happy Holidays!
Showcase: Develop your apps using Smarty 3 and PhpStorm
Dec 21, 2010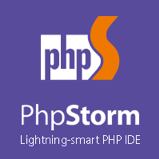 Alexey from JetBrains says:


PhpStorm is a smart cross-platform PHP IDE focused on developer productivity. A key advantage of PhpStorm is its deep understanding of code, be it JavaScript, PHP, HTML or CSS. The IDE performs a comprehensive analysis of project code and offers developers best-in-class code insight, code completion suggestions, refactoring facilities and on-the-fly error checking.

Smarty Support has been included in PhpStorm from the very beginning, and now its latest version also brings its users Smarty 3 power.

The editor supports Smarty syntax, highlights its keywords, automatically closes tags and enables autocompletion of Smarty tags in template files. It correctly handles all possible mixtures of HTML markup, PHP, JavaScript and Smarty; for example, it can give you helpful autocompletion and quick-fixes for JavaScript code embedded in an HTML block inside a Smarty template.

Of course, you can use custom delimiters to avoid conflicts between standard Smarty delimiters { } and javascript brackets. For example, you may set delimiters for Smarty like this: <!--{. This is no problem for PhpStorm.

Another very useful feature is the Structure view where you can overview and navigate through your template structure, which is especially handy for large and complex templates. Code folding/unfolding also makes working with big templates user-friendly.

In addition to Smarty support, you get many nice IDE features such as project deployment and synchronization over FTP, VCS support (including Git and Mercurial), PhpUnit support, a Visual Debugger based on Xdebug or Zend Debugger, as well as best-in-class JavaScript editing support.


Read more about smarty support in PhpStorm
http://www.jetbrains.com/phpstorm/
Congrats Alexey!
Showcase: Dragon Venue uses Smarty 3
Dec 15, 2010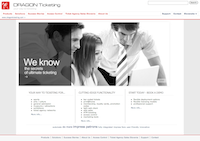 Jernej from Dragon Venue says:


DRAGON Venue is an advanced ticketing, booking and marketing software for Sports, Arts & Culture and General Admission events & attractions. Internet Web kiosk is an integral part of today's ticketing solutions. It's used for selling tickets, ticket packages, memberships, gift cards, etc. DRAGON Venue web kiosks based on Smarty template engine make about 400.000 transactions per year. This is close to 1 million tickets sold per year. With Smarty internal cache we are able to process large number of requests in very short time.

We have started using Smarty about 2 years ago because customers were looking for personalized graphic design and multi-language functionality of their web kiosks. With Smarty we can offer every client their own personalized web ticketing kiosk and still be able to maintain and upgrade the system even with large number of customers. Smarty is also used for self-service kiosk solutions (ticketing robots). We have now upgraded almost all of our clients to Smarty 3. The web kiosk is now much faster. The system is used in Slovenia, Croatia and UK.

Thank you Smarty, for making our life easier!

Jernej Lekse, head of Web Development Dragon Ticketing

http://www.mojekarte.si
http://www.dragonticketing.com/

Congrats Jernej!
---
<< newer posts
|
older posts >>
Install dynamic development software on a personal Intel Core i5 laptop for ease of development.